Rajasthan is a vibrant and captivating location for those looking to immerse themselves in the rich fabric of Indian culture, history, and architecture. This northwestern Indian state is famous for its stately palaces, desert vistas, colorful festivals, and delectable cuisine. If you're considering a vacation to Rajasthan, here's a list of the top 7 tourist attractions you shouldn't miss, as well as several notable eating spots nearby to satisfy your taste buds.
1) Jaipur, often known as the Pink City
Jaipur, Rajasthan's capital, is a city rich in history and beauty. Jaipur, also known as the "Pink City" because of its terracotta-colored structures, has a plethora of attractions. The towering Amber Fort, the exquisite Hawa Mahal, and the City Palace are just a few of the architectural wonders that entice visitors.
After experiencing the city's history, treat your taste buds to some local fare at Laxmi Mishtan Bhandar. This well-known eatery serves real Rajasthani sweets and munchies. Don't forget to try the pyaaz ki kachori and ghewar, two delectable delights that will leave you wanting more.
2) Udaipur – The Lake City
The ethereal splendor of Udaipur is defined by its sparkling lakes and charming architecture. The City Palace, which is located on the shores of Lake Pichola, provides breathtaking views. A boat trip on Lake Pichola and a visit to the exquisite Jagdish Temple are both must-do experiences.
Make your trip to Millets of Mewar to quench your hunger. This health-conscious restaurant serves traditional Rajasthani cuisine with a contemporary touch. Enjoy the famous Rajasthani thali, a meal rich with regional flavors.
3) Jodhpur, also known as the Blue City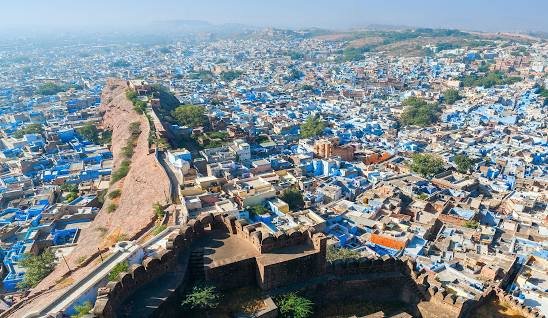 Jodhpur, often known as the "Blue City" because of its azure-painted homes, is home to the imposing Mehrangarh Fort. The exquisite sculptures and spacious courtyards of the fort provide insight into the region's royal heritage. Sardar Market is a buzzing treasure trove of handicrafts and spices.
After a day of exploring, treat yourself to a culinary excursion at Gypsy Restaurant. The delicious local and foreign cuisine is enhanced by the rooftop environment. Enjoy classic dal baati churma while taking in spectacular city views.
4) Jaisalmer – The Golden City
In the heart of the Thar Desert lies Jaisalmer, the "Golden City." Its sandstone architecture glows in the sun, creating a mesmerizing sight. The UNESCO World Heritage Site Jaisalmer Fort and the artistically carved Patwon Ki Haveli are must-sees.
Visit Trio Restaurant for a gourmet experience. This restaurant serves a variety of cuisines, but their Rajasthani delicacies stand out. Enjoy a magnificent supper of ker sangri and indulgent maas (meat) dishes.
5) Pushkar – The Spiritual Town
Pushkar, known for its sacred Pushkar Lake and Brahma Temple, is a spiritual haven. The town's lively bazaars sell everything from handicrafts to jewelry. The Pushkar Camel Fair, a colorful spectacle, draws visitors from all over the world.
Savor the local flavors at Out of the Blue, a charming café that offers vegetarian delights. After discovering the mystical aura of Pushkar, indulge in their nutritious thali and enjoy the relaxing atmosphere.
6) Ajmer – A Blend of History and Spirituality
Ajmer's central attraction is the Ajmer Sharif Dargah, a Sufi shrine that draws devotees and tourists alike. The calm Ana Sagar Lake and the majestic Taragarh Fort offer further insight into the city's past.
Honeydew Restaurant is the place to go if you're hungry. The restaurant is well-known for its eclectic menu, which includes North Indian, Chinese, and Rajasthani delicacies. The mouthwatering laal maas (hot meat curry) is a must-try here.
7) Mount Abu – The Hill Station of Rajasthan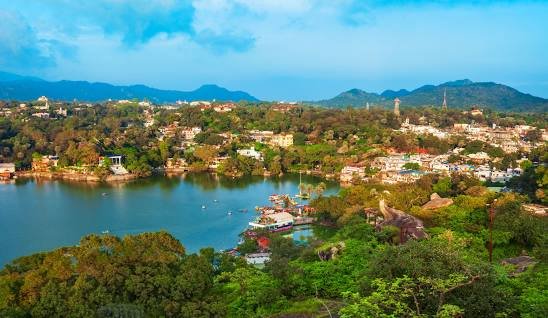 Nestled in the Aravalli Range, Mount Abu offers a refreshing change from the desert landscape of Rajasthan. The beautiful marble sculptures on the Dilwara Jain Temples adds to the region's architectural prowess.
Visit Arbuda Restaurant after enjoying Mount Abu's calm and tranquil setting. This quaint restaurant serves a wide range of vegetarian cuisine, including Rajasthani and Gujarati delicacies. Indulge in their thali to get a full experience of the region's gastronomic wonders.
To Sum Up
Rajasthan is an attractive location for tourists because of its varied landscapes and rich cultural heritage. Each city has its own distinct charm, from the crowded streets of Jaipur to the tranquil lakes of Udaipur. What better way to end your exploration than by indulging in some of the mouthwatering regional cuisine? The restaurants mentioned above are just a small sample of Rajasthan's culinary marvels. Pack your luggage, start this amazing journey, and allow the beauty and flavors of Rajasthan to leave a permanent impression on your soul.
You Should Also Check: Top 10 Honeymoon Destinations In India