When you think about Jaipur, known as the Pink City of India, you might picture grand palaces, bustling markets, and famous places like Hawa Mahal and Amer Fort. These are indeed wonderful places to visit, but Jaipur has some secrets that not everyone knows about. Beyond the places crowded with tourists, there are hidden gems that are worth exploring. In this article, we'll introduce you to five lesser-known, but equally amazing, destinations in Jaipur.
1. Galta Ji Temple – The Monkey Temple
Hidden away in the beautiful Aravalli Hills is the Galta Ji Temple, often called the Monkey Temple. This special place is dedicated to Lord Hanuman. As you climb the stone stairs, you'll be greeted by a group of lively monkeys that have made this temple their home. The temple itself has stunning pavilions, temples, and natural springs that fill the sacred kunds (water tanks). It's a peaceful place to sit, think, and take photos with a fantastic view of Jaipur.
2. Nahargarh Biological Park
Nahargarh Fort is well-known, but nearby, there's a hidden gem called the Nahargarh Biological Park. It's at the foothills of the Aravalli Range and perfect for people who love wildlife. You can go on a safari in the park and see animals like tigers, leopards, and Asiatic lions. The park is filled with lush greenery, offering a calm escape from the city's hustle and bustle.
3. Panna Meena Ka Kund – The Stepwell of Symmetry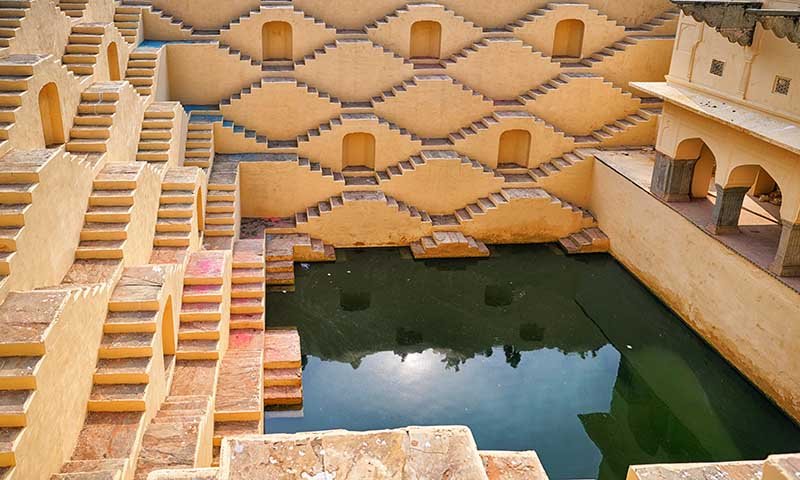 Panna Meena Ka Kund is an ancient stepwell near Amer Fort, and it's a hidden architectural wonder. Unlike the popular Chand Baori stepwell in Rajasthan, this one is not crowded with tourists. The stepwell has intricate symmetrical designs and a unique mix of Islamic and Rajput architecture. It's well-preserved, and the way sunlight plays with shadows in the stepwell makes it a great place for photography.
4. Anokhi Museum of Hand Printing
If you're interested in traditional crafts and textiles, you must visit the Anokhi Museum of Hand Printing. It's tucked away in the old city and tells the story of hand block printing in Rajasthan. You'll see a fascinating collection of hand-block-printed textiles, tools, and exhibitions explaining the printing process. The museum also has a peaceful courtyard and a charming café where you can immerse yourself in the world of textiles and design.
5. Chandlai Lake – Perfect for Birdwatchers
Chandlai Lake, about 30 kilometers from Jaipur, is a hidden paradise for birdwatchers and nature lovers. This calm lake attracts many migratory and resident bird species. You can spot pelicans, flamingos, and different types of wading birds and waterfowl here. The lake's peaceful atmosphere and the chance to see nature up close make it a wonderful escape from the city.
These are the 5 Hidden Gems of Jaipur. If you're in search of a Rajasthan tour package in which you can explore Jaipur hidden gems, Epic Trips stands out as an excellent choice for your travel needs.
Exploring Jaipur's Hidden Gems: Tips and Suggestions
Get Local Help: Since these places aren't as well-known, it's a good idea to hire a local guide who knows their way around.
Check Timings: Make sure to find out when these places are open because they may have different hours than the more popular tourist spots.
Respect and Protect: When you visit these hidden gems, be respectful of the local culture, environment, and wildlife. Always clean up after yourself and help preserve these special places.
Travel Light: Since some of these spots involve walking and climbing, pack light and wear comfortable shoes.
Jaipur's hidden gems reveal the city's rich history and diverse culture. While the famous landmarks are amazing, exploring these lesser-known treasures can provide a deeper connection with the Pink City. So, next time you're in Jaipur, consider taking a detour to discover these hidden gems waiting to be explored. They offer an authentic and unforgettable experience that will stay with you long after you've left the Pink City behind.